Campus Contern and the
'CO2 neutral'

label

For the first time, CO2 neutral label awarded to office buildings in Luxembourg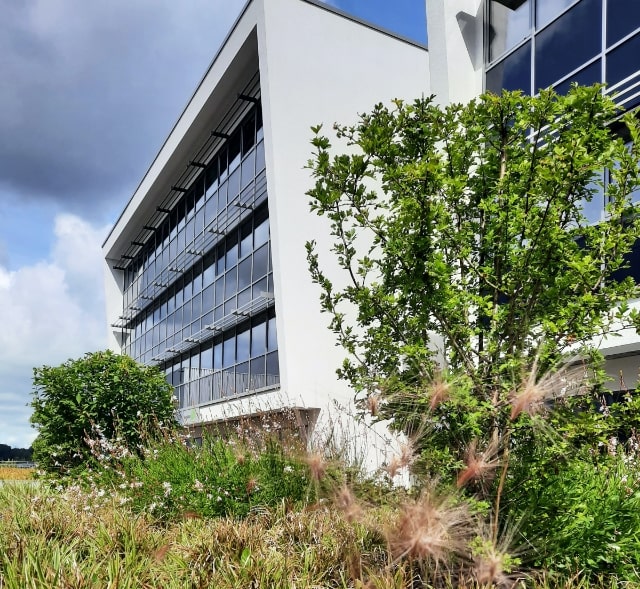 Campus Contern became the first office complex in Luxembourg to be awarded a CO2 neutral label.
Welcoming large companies, SMEs and start-ups, the Campus consists of five buildings. It uses 100 % green electricity for heating, cooling and lighting and has set the priority of doing the maximum possible to reduce its carbon footprint.
Under the slogan "Feel good at work" 33 Luxembourgish and international companies are already being hosted on Campus Contern. They are free to design their space according to their wishes and requirements and they enjoy a 100% natural environment, free from allergens and chemical pollution. A natural solution is used to purify the air in all of the buildings, around the clock. 
Company employees can use Campus Contern's autonomous electric shuttle bus service, the Campus Contern car sharing system, 118 car charging points for electric vehicles, as well as a system put in place for the easy sorting of waste and the reduction of packaging. 
At lunchtime – one can relax on the cozy terrace, take a walk in a nearby forest or use the fitness room. Campus Contern is serious about taking care of biodiversity and beehives have also been set up on the rooftop of one of the buildings. 
Working for tenants, employees tell us that "Campus Contern is a great place to work that embraces a circular economy. It is environmentally friendly and modern".
All tenants can benefit from Campus Contern's environmental certifications which, besides being CO2 Neutral, has also been awarded the CSR (Corporate Social Responsibility) label and the "BREEAM excellent in use" certificate.  
About the CO2 neutral label:
Do you need more information or would you like to visit the offices?