Beyond the trend, it's important to have offices that make you want to 😎 :
Your company's image is also your offices 🤩: will you make a good impression? Here you will look pro, clearly concerned about the comfort and well-being of your employees and you will score points even before your customers meet you.
* Give a good image of the company
* Motivate employees
* Prove your value to customers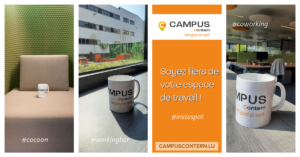 Conference Room:
#instagram-worthy and most importantly #practical ✅! Imagine hosting a training, a conference for your clients and being able to show off your office and present your team at the same time? Ideal no😉?
CAMPUS CONTERN has an event room for 100 people, fully equipped.
Fitness room :
All our tenants also enjoy the free fitness room at will. We also offer them free group classes 3 times a week. That's what #feelgoodatwork is all about!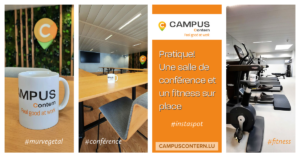 Landscaped outdoor spaces :
#instagram-worthy: What's better than a nice break in the sun 😎? It's comfortable, it's available, it's free, and it feels good. Our outdoor areas are spacious and well laid out, you can chat, eat, have your meetings, make your phone calls, watch the bugs … at your leisure.
In addition to the restaurant and other services, it is true that a beautiful terrace to chat or work is really nice! You just have to take advantage of it.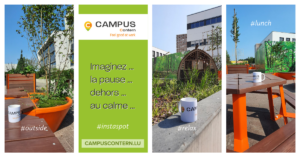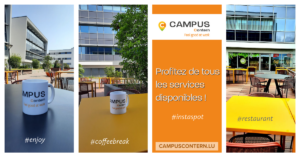 #Instagram-worthy: the VIP rooftop terrace at Epervier 🤩: clearly a beautiful place to relax, enjoy the view, have meetings or receptions 😉🥂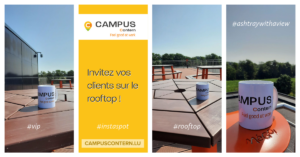 Fancy an *instagram-worthy* office?… come join us.