Proud and delighted with our collaboration with the Beatles!!!😎🤩
As part of our #CSR policy 🧡♻️ we have improved our interior signage with the goal of motivating people to take the stairs more than the elevator. 👍
The steps now show the number of calories burned 💪 the Beatles lead by example and direct our tenants to take the stairs instead of the elevator 😉. Doors and landings now carry encouraging and motivating messages because yes, #eatingbalance is not a luxury or a myth, all small changes and efforts on a daily basis are helpful to everyone and the community.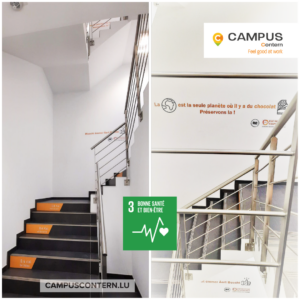 Imagine: you burn calories to take the guilt out of the last cookie you ate 🍪 and at the same time you save the energy to run the elevator!
IT'S TINY MAYBE BUT WE ARE HUMMINGBIRDS 💫! Every gesture counts and we are proud to be able to contribute a little more.
Thanks to the shime team for this interesting project and to NovaSign Lxbg for the quick and flawless execution.
#coworkingspace #RSE #sustainability #futureisnow #campuscontern #noplanetb #wellbeingatwork #luxembourg #mobility #entrepriseresponsable #motivation #colibri #beatles